October 2021
After our enforced lockdown, we have a welcome little flurry of gigs. Our first was a fund-raising concert to a packed congregation at Brent church.
Coming up we have bookings at Laxfield Village Hall on 9th October and at Hadleigh Folk and Acoustic Music Nights on December 3rd.
We are also planning a tour of Suffolk Churches for 2022 and hope to publicise these when we have some dates.
The new year, will also see the release of our second album.
March 2018
Our mini tour of the north of England started on the evening of Friday  March 23 at the wonderful Bollington Folk Club near Macclesfield in Cheshire. The audience joined in every possible chorus including the Spanish chorus on In these shoes. They made a rousing addition to the sound.
The "tour" continued and ended on Sunday March 25th with us playing live of Genevieve Tudor's Sunday Folk Programme on BBC Radio Shropshire.
October 2017
Two lovely evenings in a row:
Bury Folk Collective at Oakes Barn in Bury St Edmunds
and
Islington Folk Club at the Horseshoe in Clerkenwell.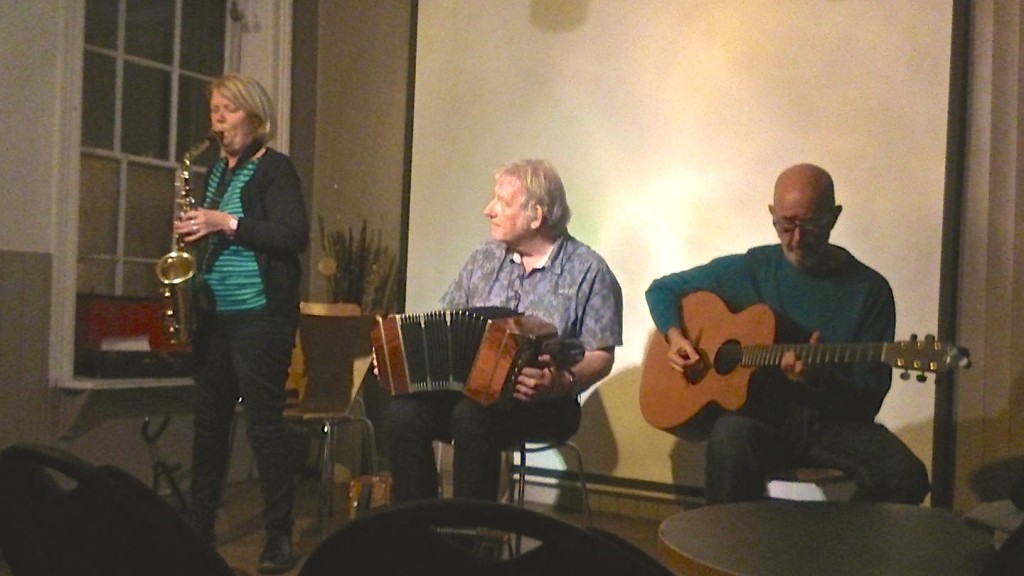 This will be the last time we'll play at this lovely old pub, The Horseshoe,
as the club's moving in the new year.

•  Our CD has had two good reviews
Living Tradition Magazine.
ROSEWOOD Rife & Strife & Mirth & Fun (Private Label)
Rosewood is a trio comprising three friends from the East Anglian folk scene who have played for French dances and English ceilidhs for several years. Simon Haines, Phil Lyons and Val Woollard came together to sing and play back in 2014, and this CD presents an invigorating menu drawn from their collective repertoire, painting a pertinent portrait of their predilections (if you get my drift). In essence this means six purely instrumental tracks – mostly pairings of dance tunes – and six songs, with bang in the middle a track combining an Irish set-dance and a comic song made famous by the Flanagan Brothers. On the instrumental tracks, the three musicians demonstrate an easy mastery of different dance styles, moving from a 16th century Italian bergamasca to pipe tunes by James Hill, a set of Breton tunes and a sprinkling of originals by Simon himself. The vocal tracks tend to be on the chirpily upbeat side and, like the dances, chunter along nicely; Rosewood's rendition of Arthur McBride is suitably rum-ti-tum, as is The Maid With The Bonny Brown Hair, while Erika Eigen's "Clockwork Orange" hit I Wanna Marry A Lighthouse Keeper and Kirsty MacColl's In These Shoes provide the necessary oddball quotient. Everything is dispatched with due relish, and boldly sung, while the trio's ensemble sound is colourful and confident with a wide choice of instrumentation (melodeons, concertina, bandoneon, guitar, bass, ukulele, recorders, bagpipes, sax, flute and dulcimer) deployed imaginatively in the studio setting. The album title is aptly chosen, then.
David Kidman
Mardles – Suffolk Folk Magazine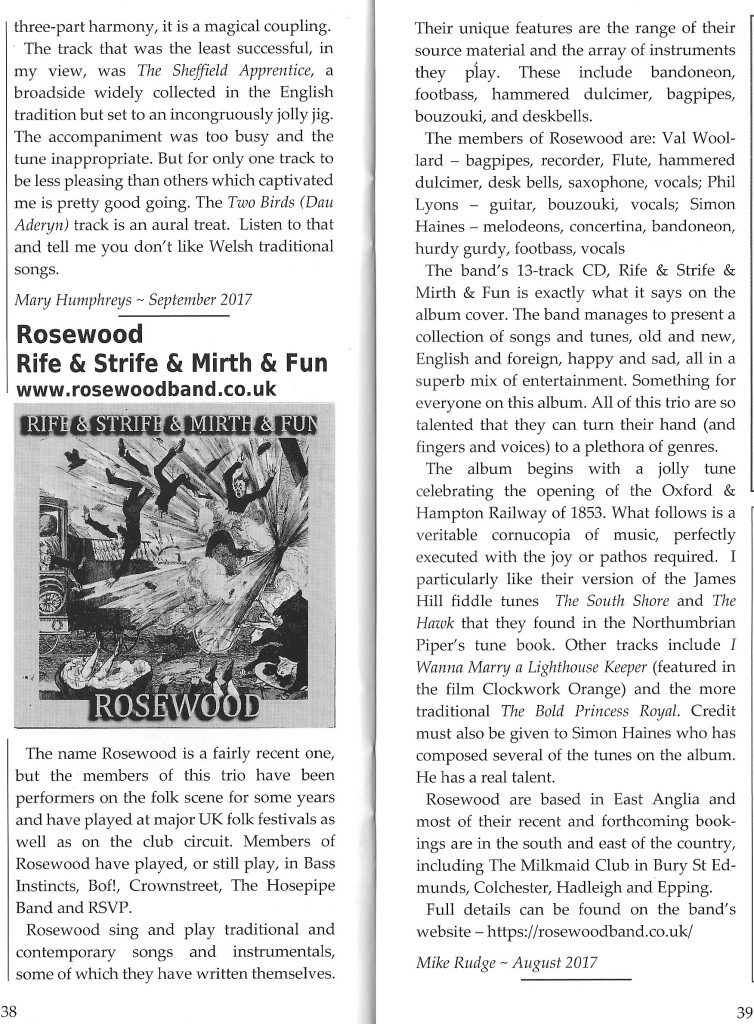 Summer 2017
We had a fun time at Folk East this year, playing a 40 minute set on the new Broad Roots stage, imaginatively decorated by Lynne and John Ward. We had a friendly, appreciative audience, one of whom was apparently "transported' by our two tunes, March 10th / Laura's Waltz. It was a touch challenging playing against the thumping bass and drum coming from the main stage.
We also did a number of workshops this year: Folk recorder (Val Woollard), Fingerstyle guitar (Phil Lyons) and Tune arranging (all three of Rosewood) – we chose to teach Bergamasca from our recent CD – see below. All three workshops were well attended. We'd be happy to repeat any of these elsewhere.
Spring 2017
At last our new CD is out and is available from us at live gigs or from our website. It's called Rife & Strife & Mirth & Fun –  the chorus to one of our songs. Full details are on our music page here.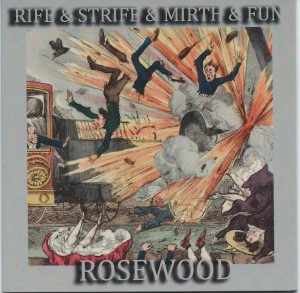 There are 13 tracks comprising more or less equal numbers of songs and instrumentals. We have stayed true to our original intention of playing a wide variety of material on a interesting array of instruments. On the CD, as in our live performances, we try resist being categorised as either traditional or contemporary, serious or humorous. Our new CD includes 16th century Italian dance music to 21st century compositions by members of the band.
Spring 2016
We've finally started working on a new full length recording which we expect to see the light of day around July. New tracks will include new tunes as well as songs from all three members of the band.
Autumn 2015
We had a number of unusual gigs over the summer, including one in Essex that was a mixture of a Hosepipe Band dance and a Rosewood concert. The concert won, given that the marquee "floor" was lumpy grass and there were dozens of dogs around. We also played in one of the club sessions at the wonderful Folk East Festival at Glemham in Suffolk. Then while doing support at Dartford Folk Club, we met Doug Welch who invited us to play live on his BBC Radio Kent Folk programme.
In November, we enjoyed appearing as main guests at St Neots Folk Club and Waveney Folk Club and an appearance, prior to playing at Cambridge Folk Club, on Sue Marchant's Sunday evening programme on BBC Radio Cambridgeshire.
March 2015
We've had a busy few weeks, playing at Suffolk Folk Day at the Riverside Centre in Stratford St Andrew, on Feb 4th, at Stortfolk in Bishops Stortford on Feb 26th, at Orpington Folk Club on March 19th and at Readifolk on March 22nd. Great audiences at all these gigs, especially Readifolk where everyone joined in with the choruses of songs with great gusto.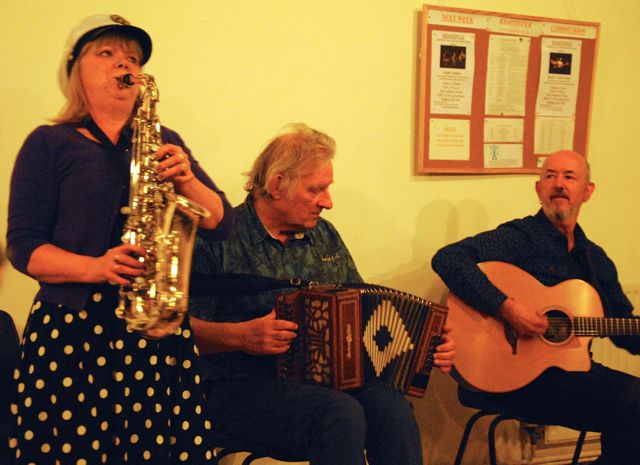 Rosewood at Readifolk
January  2015
We had the usual friendly welcome at Islington Folk club on January 15. Club organiser, Bernard was on his usual good form and sang two of his little ditties accompanying himself on ukulele.
The Angel Band filled the stage on two occasions during the evening entertaining us with their happy bouncy English dance music. There were also floor spots of Martin Nail, Tom Paley and a duo from the west country, Jimmy Aldridge and Sid Goldsmith who sang a couple of songs tastefully accompanying themselves on banjo and guitar. These two are well worth a listen if they're coming to a folk club near you.
December
We've played twice in Colchester recently. On 6th we played a 40-minute set in the cafe of The Minories and on 13th we entertained an audience of 30-40 people at Colchester Slack Space. We were playing in sub-zero temperatures, but the warm response of the audience made up for that. Thanks to Bill Johnson for taking the video at http://youtu.be/yc3jut36_ps
November 4
We had a good night at Colchester Arts Centre, supporting Lady Maisery. We sang The Maid with the Bonny Brown Hair, Maloney Puts His Name Above The Door and The Bold Princess Royal and played two sets of tunes: Ice Breaker/Hogsdon Square and Bluebells on the line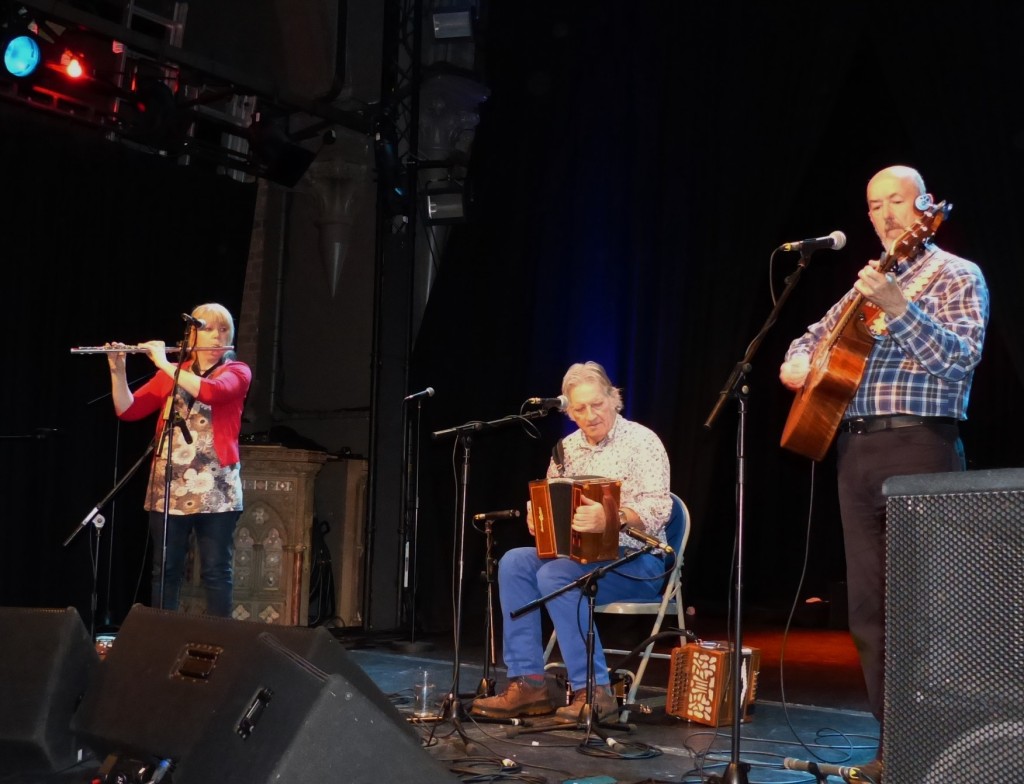 October 14
We had a fun gig last night at the Sorel Horse, Shottisham near Woodbridge, playing a few songs and tunes for the first time in public. Among these was Val's I wanna marry a lighthouse keeper,  which she sang through a megaphone and, as you can see, wore a sailor's hat.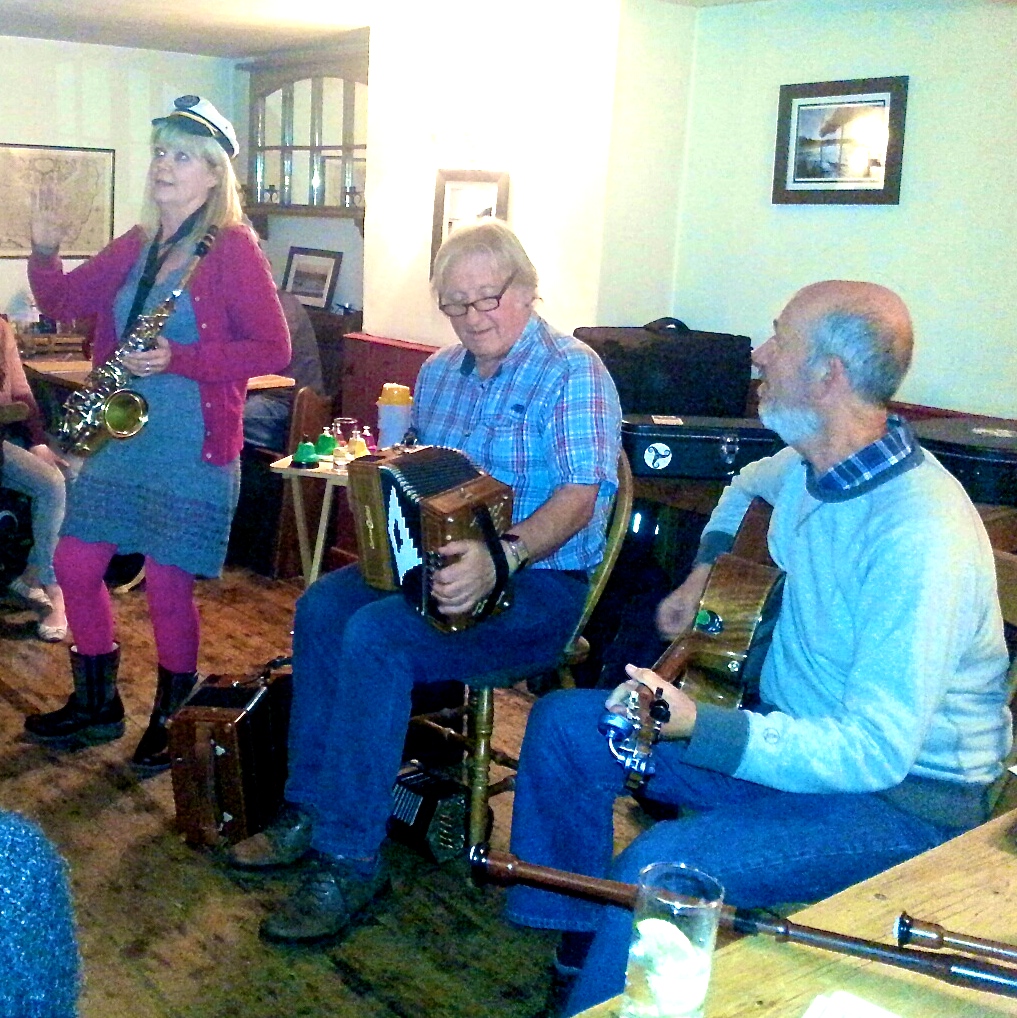 If you're interested in what this song is about, here are the deep and meaningful lyrics.
I want to marry a light house keeper, and keep him company
I want to marry a light house keeper, and live by the side of the sea
I'll polish his lamp by the light of day, so ships at night can find their way
I wanna marry a light house keeper. Won't that be okay?
We'll take walks along the moonlit bay, maybe find a treasure too
I want to live in a light house. How 'bout you?
I dream of living in a light house baby, every single day
I dream of living in a light house, that white one by the bay
So if you want to make my dreams come true, you'll be a lighthouse keeper too
We could live in a light house, every single day
We also did Val's other song, Kirsty McColl's In these shoes, which is on our recently recorded EP. The very appreciative audience joined in the Spanish chorus of this song which we'd handed out on printed cards.
August 22
Now back from Whitby Folk Week and enjoyed our half-our set at The Rifle Club on Wednesday evening. It was a cosy venue, a friendly audience and great other musicians, including Paul Downes, Mike Tickell and Sarah Grey.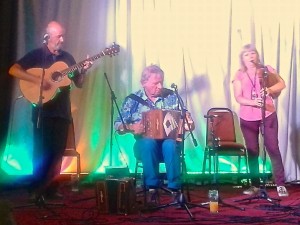 We managed to play six songs & tunes: Maloney puts his name above the door/Garden of Daisies; March 10th/Laura's Waltz; In these shoes; Bluebells on the Line/Brook Street polka; The Bold Princess Royal; Father's Journey/Hannah's jig.
We had a great week which included a Hosepipe Band ceilidh, a solo spot for Phil, and Val's Recorder workshop.
August 7
We now looking forward to play at Whitby Folk Week. For anyone that's going to be there, you can catch us on Wednesday evening (20th Aug.) at the Rifle Club some time between 8.00 and 11.30 pm.
August 6
We've just completed our first recording as Rosewood. It's a five-track EP which gives a flavour of the mix of material we play in our club sets. It's available from our Music page.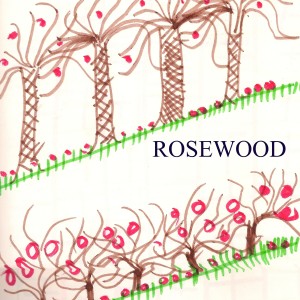 We made the recording at Early Bird Studio, near Harwich and are grateful to engineer Pete Barrenger, who did a great job in just a few days. He also played tasteful bass on In these shoes. Here are brief notes on the five EP tracks
1   The Bold Princess Royal (Trad.)
This song about a packet ship boldly running away from a pirate has a great tune often heard in Suffolk sessions. There was a Princess Royal that fought off a pirate over a 3-day conflict in June 1789, despite being outmanned and outgunned. This is based on Walter Pardon's version, recorded at his home in August 1978. We couldn't resist the Morris ending.
2   March 10th / Laura's waltz (S. Haines)
Waltz tunes composed to mark two special occasions: the first marks Val and Simon's wedding anniversary. The second was written on the day our first daughter was born.
3   Maloney puts his name above the door / Garden of daisies (Trad.)
Originally a Flanagan Brothers' song, we got our version from an At the Racket album. It tells of an ambitious Irishman who had great plans for a "liquor shop he bought from Flynn". The song is preceded and followed by an Irish set dance tune.
4   Bluebells on the line / Brook Street polka (S.Haines / Trad.)
These tunes were first put together for a collection celebrating the the route of the A272 between the North and South Downs. The first tune is a reference to the Bluebell Railway. The second was learnt from the playing of Jack Norris, a melodeon player who had this one track on Scan Tester's album: I never played to many posh dances.
5   In these shoes (K. McColl)
A commentary on the importance of choosing appropriate footwear for every occasion.